Skincare for Your Lashes? Learn What It Is and Why You Need It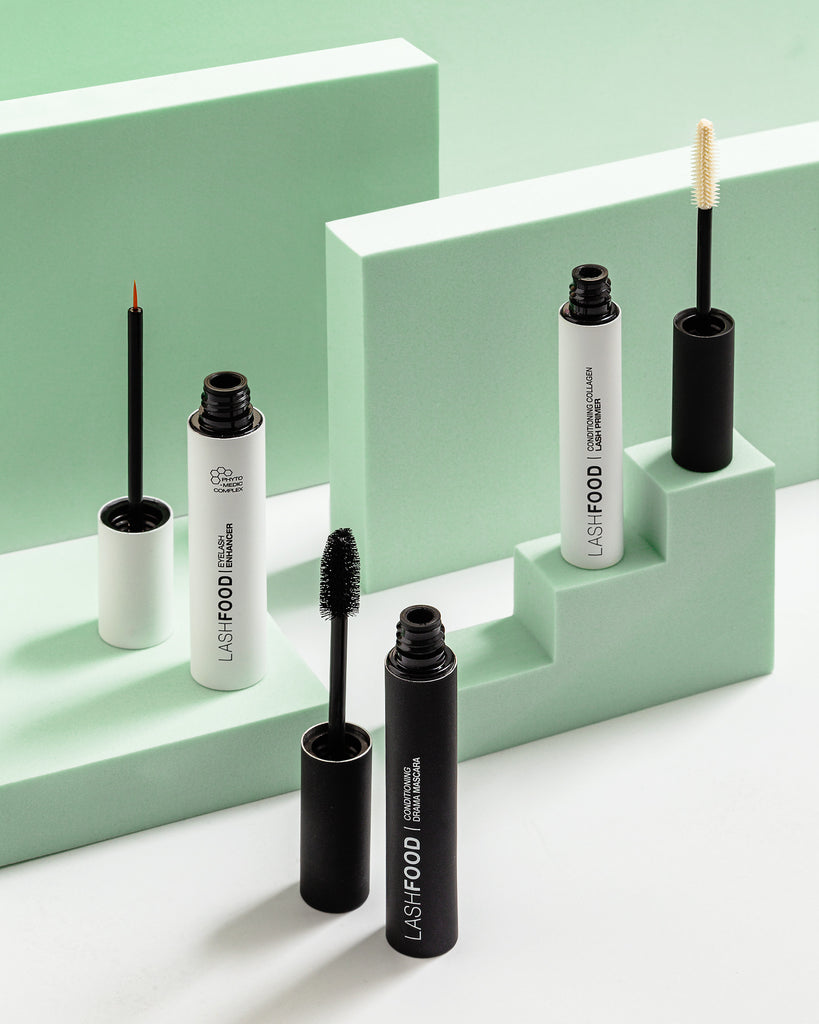 Welcome to the world of LASHFOOD, where we believe that caring for your lashes should be an essential part of your skincare routine. In this post, we will dive deep into the concept of "skincare for your lashes" and explore how LASHFOOD's best-selling products can revolutionize your lash game. Get ready to discover the transformative power of our Eyelash Enhancing Serum, Conditioning Collagen Primer, and Conditioning Drama Mascara, and learn how to seamlessly incorporate them into your daily routine for luscious, healthy lashes that steal the show.

Eyelash Enhancing Serum – Nourish and Strengthen Your Lashes

Our Eyelash Enhancing Serum is a true game-changer in the beauty industry. It is carefully formulated with a potent blend of natural ingredients and essential proteins that work synergistically to promote the appearance of longer, fuller lashes. Say goodbye to short, sparse lashes and hello to a fuller, more voluminous lash line.

Incorporating the Eyelash Enhancing Serum into Your Routine:

Start with a clean face: Before applying the lash serum, make sure your face is thoroughly cleansed and free from any makeup or residue.

Apply with precision: Using the applicator brush, gently glide a thin layer of the serum along the base of your upper lash line. Just like applying your favorite eyeliner, this ensures direct contact with the roots of your lashes for maximum effectiveness.

Allow time to dry: Give the lash serum a few moments to dry before moving on to other eye products or applying makeup. This allows it to fully absorb and work its magic.

Consistency is key: To achieve the best results, use the Eyelash Enhancing Serum consistently every evening. The nourishing formula will continuously keep your lashes looking their best.

Conditioning Collagen Primer – Prepping Your Lashes for Drama

For a flawless lash look that lasts all day, our Conditioning Collagen Primer is your secret weapon. This unique product not only primes your lashes for mascara application but also provides essential nourishment and conditioning for healthier, more resilient lashes.

Incorporating the Conditioning Collagen Primer into Your Routine:

Begin with clean, dry lashes: Make sure your lashes are free from any residual mascara or other products.

Apply the primer: Using the applicator brush, gently sweep a thin coat of the Conditioning Collagen Primer from the base to the tips of your lashes. The primer's lightweight formula allows for easy and even application.

Let it dry: Allow the primer to dry for a few seconds before moving on to mascara application. This step ensures optimal adhesion and prevents clumping.

Embrace the drama: Now, it's time to apply your favorite mascara. Notice how the Conditioning Collagen Primer enhances the length, volume, and overall appearance of your lashes, providing the perfect canvas for your desired lash look.

Pro-tip: This 24-hour formula protects and extends under mascara during the day and nourishes with Nano-Peptide Complex as an overnight lash mask.

Conditioning Drama Mascara – Amp up the Volume and Intensity

Completing the trio of lash-perfecting products is our Conditioning Drama Mascara. This high-performance mascara delivers instant drama, lift, and volume your lashes to new heights. Formulated with nourishing ingredients, it not only enhances your lashes but also keeps them healthy and protected.

Incorporating the Conditioning Drama Mascara into Your Routine:

Start with primed lashes: Before applying the Conditioning Drama Mascara, make sure you have primed your lashes with the Conditioning Collagen Primer. This combination ensures a seamless and long-lasting application.

Wiggle and coat: Using the mascara wand, wiggle it from the root to the tip of your lashes, coating them evenly. The unique brush design separates and defines each lash, creating a dramatic effect.

Layer for intensity: For an even more intense look, you can layer the mascara, building up the volume and length to your desired level. The lightweight formula allows for multiple coats without clumping or weighing down your lashes.

Flaunt your lashes: With Conditioning Drama Mascara, your lashes will steal the spotlight. Enjoy the attention and embrace the dramatic effect, knowing that your lashes are also being nourished and protected throughout the day.

LASHFOOD brings you the concept of "skincare for your lashes," where nurturing and enhancing your lashes becomes an integral part of your skincare routine. By incorporating our best-selling products – the Eyelash Enhancing Serum, Conditioning Collagen Primer, and Conditioning Drama Mascara – into your daily regimen, you can achieve stunning, healthy lashes that elevate your entire look. Say goodbye to short, lackluster lashes and hello to the show-stopping beauty that only LASHFOOD can provide.